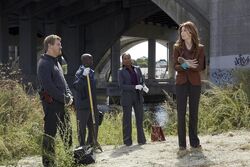 Talking Heads is the fourth episode of the first season of Body of Proof.
Megan and her team must piece a victim back together when body parts turn up in a back alley. Lacey gets Megan's reluctant permission to film her at work for her school video essay project which in turn has a profound effect on Lacey's view of her mother.
Full Summary
Edit
Ad blocker interference detected!
Wikia is a free-to-use site that makes money from advertising. We have a modified experience for viewers using ad blockers

Wikia is not accessible if you've made further modifications. Remove the custom ad blocker rule(s) and the page will load as expected.